Sensationnel Remy Human Hair Weave LIVE Brazilian Keratin Remy Yaki 100% human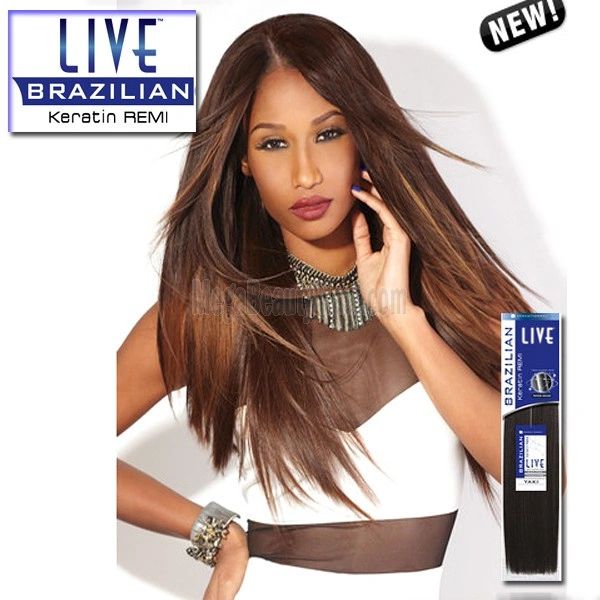 Sensationnel Remy Human Hair Weave LIVE Brazilian Keratin Remy Yaki 100% human
Sensationnel Remy Human Hair Weave LIVE Brazilian Keratin Remy Yaki
100% Human Hair
Protein Infused
LIVE gives you the texture!
Softer, Silkier, and Natural Looking characteristics of Bundle Hair, continues to apply in regular Remi products. We've taken every step to meet the consumer's preference in texture with current market situation. You can enjoy the same quality all around with Keratin infused "LIVE".
Brazilian Keratin Remi, LIVE is
Treated with 'Brazilian Keratin' for the making of a healthier product
Softest and most natural looking texture
Specially developed Yaki texture with volume
Characteristics :
Silk-like soft texture
Keratin's effect proloning the life of the Product
Keratin's effect Healthier / Resilient Product
LIVE Brazilian Keratin Remi is nourished with newly developed Brazilian Keratin Treatment.
Brazilian Keratin is a well-known treatment for straightening hair, through the use of natural keratin protein.
The structure-building keratin protein is infused by deep-conditioning, resulting in hair that is nourished and smooth.
PERFORMANCE:
SOFT & SMOOTH for sleek look & touch
LONG-LASTING for manageable styling
NOURISHED for strength & resilience
NATURAL SHINE for visibly beautiful hair